Home
News and events
About me
Biography, background, press, and tidbits both musical and nonmusical
My musicals
Five shows I've written, including one that ran Off-Broadway in 2006 and one currently in development
The Chagall Suite
A commissioned 8-movement piano piece inspired by Marc Chagall's artworks, and a tribute to Chagall and Elvis
Listen
Hear my music on this site and buy my recordings
Musical direction
See my ideas regarding musical direction, see my resume, or let me coach you for auditions and give you accompaniment tracks to practice with
Transcription services
Send me a recording to create sheet music from, or have me transpose or arrange a song or instrumental work
Travelogues
Read accounts of my long-term trips and my experience on the Fosse tour
Mailing list
Subscribe to receive news and travelogues
About Me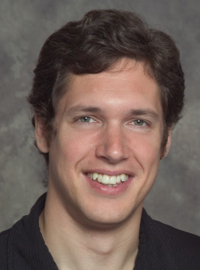 I'm a pianist, conductor, and composer originally from Newton, Massachusetts, a suburb of Boston. I studied classical piano with Sandra Porter-Engelhart and Lily Dumont and composition with Randall Woolf, and in college I began working in the theatre, musically directing shows and writing my first full-length musical, based on Judith Guest's novel Ordinary People. It was performed at Harvard's Agassiz Theatre.
After college, I moved to New York City and joined the BMI Lehman Engel Musical Theatre Workshop, where I met the collaborators for my musicals. How to Save the World and Find True Love in 90 Minutes had an Off-Broadway run for two months at New World Stages.
I also composed and recorded two commissioned piano pieces inspired by the artworks of Marc Chagall. In 2008, I gave a concert tour in Germany, and in 2010, I performed the two pieces -- and some Beethoven and Mozart -- at the Musee Chagall in Nice, France. I have also performed them around the United States, primarily at Chagall-featured exhibitions.
My current career is a combination of musically directing musicals and cabaret performances in and out of New York, giving classical concerts, coaching singers, arranging songs, and transcribing music. I enjoy the variety.
When I'm not at the keys, I like to be behind a Scrabble board or exploring part of the world for a month at a time.