Home
News and events
About me
Biography, background, press, and tidbits both musical and nonmusical
My musicals
Five shows I've written, including one that ran Off-Broadway in 2006 and one currently in development
The Chagall Suite
A commissioned 8-movement piano piece inspired by Marc Chagall's artworks, and a tribute to Chagall and Elvis
Listen
Hear my music on this site and buy my recordings
Musical direction
See my ideas regarding musical direction, see my resume, or let me coach you for auditions and give you accompaniment tracks to practice with
Transcription services
Send me a recording to create sheet music from, or have me transpose or arrange a song or instrumental work
Travelogues
Read accounts of my long-term trips and my experience on the Fosse tour
Mailing list
Subscribe to receive news and travelogues
The Chagall Suite
Buy from CD Baby | Individual tracks from Lala / Rhapsody / iTunes
The Chagall Suite is an eight-movement piano suite inspired by eight themes of Marc Chagall's artworks: Vitebsk (his Belarusian hometown), the Bible, the circus, lovers and flowers, Jesus and Isaiah, Paris, nature, and angels. The piece was commissioned by Chagall scholar and lecturer Vivian R. Jacobson and her husband, Ralph, in honor of their 50th wedding anniversary. Mrs. Jacobson also commissioned "Conversations," an improvisatory musical meeting of Chagall and Elvis Presley, which fuses together Russian classical themes, klezmer, rock, blues, jazz, and gospel. It was composed to complement Mrs. Jacobson's lecture on Elvis and Chagall.
I have performed both pieces in Germany, France, and the USA, and I recorded them on my 62-minute CD Conversations With Chagall, available at CD Baby.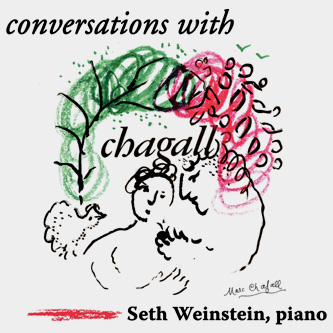 Links below point to MP3 files. Depending on your browser settings, either the files will play automatically or you will be prompted to save them first.
Trk
Title/Preview link
Description
1
All material composed and performed by Seth Weinstein
Conceived, supervised, and produced by Vivian R. Jacobson
Recording produced by Marc Lewis
Public relations and promotion by Joshua Weinstein
Recorded by Sean Swinney, New York City, on May 15 and 17, 2008
Edited, mixed, and mastered by Chip M. Fabrizi, PPI Recording, New York City
Graphic design by Alison DeBenedictis and Kim Gilley
Cover drawing by Marc Chagall
Photo by David Nicoll
All tracks (C) and (P) 2005-2008 Seth Weinstein. All rights reserved.
Performances and press
21 August 2005
Memphis, Tennessee
Dixon Gallery and Gardens
17-18 February 2007
Southern Pines, North Carolina
Weymouth Center for the Arts and Humanities
Review: "Jacobsons' Commissioned 'Suite' a Joy"
22 June 2008
New York City
Googie's Lounge
18 September 2008
Osnabrück, Germany
Lutherhaus
23 September 2008
Mainz, Germany
Erbacher Hof
26 September 2008
Siegburg (Bonn), Germany
Siegburger Stadtmuseum
Review in German: "Ein Weltstar ganz ohne Alluren" ("A world star without affectations")
English translation
25 October 2008
Appleton, Wisconsin
Appleton Art Center
30 October 2008
New York City
Museum of Biblical Art
8 November 2009
Newport Beach, California
Temple Bat Yahm
28 March 2010
Pocantico Hills, New York
Union Church of Pocantico Hills
25 September 2010
Nice, France
Musée national Marc Chagall
10 March 2013
Newton, Massachusetts
Temple Emanuel
11 October 2015
Cleveland, Ohio
Church of the Covenant
19 November 2017
Annapolis, Maryland
Congregation Kneseth Israel
---
Buy from CD Baby | Individual tracks from Lala / Rhapsody / iTunes